Whether you're living in a log cabin or a country cottage there are ways to get those great looks that you love. What's your pleasure, country or rustic and what are the elements of each that give it that title? Country and rustic decorating are very similar in style but with a few major differences. Both of them feel good and remind you of the time spent in your cabin or with grandma. Both have that age old style and comfort that just make you feel good. Elements of country decorating are used in rustic decorating at times and likewise, rustic elements slip into country styles, but the major differences that you're going to find are these: Country decorating uses a bit more frills than rustic. It is casual, warm, and cozy. If it's country, it is all about comfort and warmth. The look is neat and tidy, a little overstuffed and absolutely unexpected. Country decorating may see a chair in a corner with a small side table to give you a spot for reading, yet when the visitor sits down, the chair yields a gorgeous old china doll or a raggedy Ann for their amusement. Lots of fabrics, warmth, quilts, cross stitch and country crafting says that the look is all country. It's warm and it is welcoming and it's you. Country in the city is still country.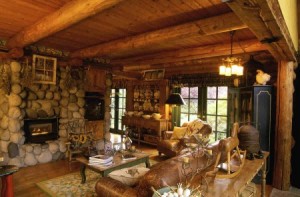 So what's Rustic Decorating?
Rustic decorating is all about rough cut, warm woods and easy care. Rustic is at home in rustic places, such as the forest cabin or the log home. It can just as easily be at home in the city though if that's your desire and your style. Rustic decorating is as close to nature as you can get. Twig furniture and rough hewn log interiors, hard wood or plank flooring and oak beams all stand up and shout Rustic. It is, as previously mentioned at home in the middle of the prairie or the forest, but if you can't select your location, you can absolutely select your atmosphere. To get the look without the location, rustic homes are primarily unpainted, leaving a good bit of wood surface showing and using a lot of warm wood to decorate. Twig furniture, knotty pine walls and rough bark beams can say rustic and offer the feel of living in the forest right up until you step outside the door.
Where Can I Use Rough Wood Furniture?
The best part of both rustic and country decorating is that items such as twig furniture and willow furniture are equally at home in both. Rustic decor can benefit from the look and feel of wood, while the twig or willow furniture will be equally at home in country style decorating, with a cushion or two crafted from an old quilt plopped atop the chairs.
If your love is the woods, twig furniture and willow furniture are going to give you the style and the look that you love, no matter where in the world you live. Check and visit us today!