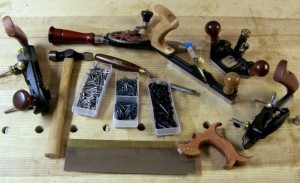 Some of the most functional and beautiful furniture is not made with pressed wood chips and heavy upholstery fabric. Twig furniture is fully functional and decorative with unique characteristics due to the wood color and patterning developed by nature. Willow furniture is not difficult to make, it just takes the right kinds of tools and plan to harvest the tree branches and twigs, let them season and cure before working and shaping them into comfortable furniture. The basic tools that are needed include a chainsaw, circular saw, draw knife, chisel, planer, sander, drill and the needed safety clothing, ear and eye protection.
After deciding on the style of furniture you are going to make, the decision of using a high quality chainsaw to cut the willow down. For heavy furniture, the thickness of the limbs should be at least three inches. Follow the dimensions on the plans and use planers and sanders to shape the wood in the form you want. Twig furniture needs to be scraped and sanded to remove rough spots that could catch on clothing or bedding at a later date. Willow is very pliable and easy to bend when it is damp but brittle when it becomes too old, a good reason why most rustic style furnishings are designed to be used outside.
The knotholes and other blemishes can be used to add character to the finished piece, but it is important to make certain that the wood itself is not full of insects or rot. Choose healthy wood and measure carefully when attempting to join the framework of the piece together. Drills that have enough power for the drill bits to cut through the wood without catching or breaking are important. Some makers use a light axe in trimming the larger pieces of wood because it is easier than using a planer or draw knife.
Hand tools such as planers, sanders and draw knives are used to give the piece a clean form and smooth finish. Clamps are used to keep the pieces in place while they are being put together. Some purists of rustic furniture believe in joining the framework of the willow furniture together with wooden pieces but wood screws are more often used in strategic places. If you are making tenons to join pieces together with a Forstner Tenon Cutter is recommended. The same company makes drill bits also designed for this type of work.
Among the safety gear needed when working with rustic materials such as willow furniture and the lighter twig furniture are safety boots, logging pants and goggles to protect the eyes. Gloves and ear protectors are also a good idea. Making log furniture will enable you to use the resources that are growing in your local environment instead of relying on imported wood man-made fabrics that will leave a large carbon footprint. Using natural willow and twigs in making rustic or natural style furniture is a very environmentally responsible way to make a useful furnishing for your home. If you are interested to know more about rustic furniture, contact us today!