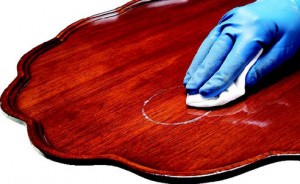 There is no denying that wood furniture has a certain rustic and elegant beauty about it. But once you have a stain on your favorite piece, it can seem like it ruined. That is why you need to take action to prevent unsightly stains on your favorite piece and ensure that you have properly protected it. The following tips will protect willow furniture, twig furniture and every other type of wood in between.
Water Stains
One of the worst stains that you will face on your wood is the water stain. No matter if it occurs from a spilled drink or a leak in the home, you will need to treat the spot as quickly as you notice it.
If the stain is fresh, you should be able to rub it lightly with a soft cloth to soak up the liquid. If it has already set, you take some oil furniture polish and being to apply it in a circular motion until you have rubbed out the stain. If the stain is difficult, combine some toothpaste and baking soda and rub it into the stain. Then remove the mixture and polish the piece.
Heat Marks
If your willow furniture has a heat stain on it, you might think that there is no solution. Instead, as soon as you notice the mark, generously massage mayonnaise into the spot. Then allow it to set overnight. When you are up in the morning, you can wipe the spot off with no trouble at all.
Cigarette Burns
Just like heat damage, cigarette burns on your twig furniture can be easily fixed with mayonnaise. The difference in this treatment is that you will want to add some ashes from the cigarette to the mayonnaise as you apply it. This helps to gently buff the surface and work out the spot.
Alcoholic Drink Stains
A nightmare for any piece of wooden furniture, especially twig furniture will be alcohol. This has the tendency to dissolve the finish and damage the wood quickly. As soon as you spill your drink, begin to blot it quickly and place some ammonia on the area, and then wipe it clean. You should then follow this up with some linseed oil later that can be applied to the spot for deep down care.
What you are going to find is that while they are unavoidable, furniture stains can be treated.
Looking for some great tips or options for your twig furniture or willow furniture? Consider these warnings.
Tips & Warnings
Chlorine bleach only removes the stain from the wood; it will not alter the natural color of the wood. If you want to bleach out the stain and the natural color of the wood, you'll need to purchase a two-part product that combines hydrogen peroxide with sodium hydroxide, which is available separately or as a kit at most hardware and home improvement stores. This is applied in the same manner as chlorine bleach, including rinsing the wood with vinegar to halt the chemical reaction.
If you want to know more about rustic and twig furniture, check and contact us today!